Hip Waddle, Over-Under-Around, Toe-Ga, Plow Relays, and "Snowball" Fights??
During the winter months I always begin my yoga classes for kindergarten and early elementary yogis with active, engaging games to "shake their sillies out" before we settle down to focusing on our breathing and yoga activities. These "ball games" help improve gross motor skills, hand eye coordination, involve teamwork and capture the attention and imagination of the children.
A winter favorite, asked for again and again (even in warm weather) – a SNOWBALL FIGHT! (www.housingaforest.com).

Crumple tissue paper or newspaper into balls. I made about 30 for each side for classes of 15.
Use blue painter's tape to mark a line dividing your cleared space down the middle.
Place equal number of snowballs on each side of line.
Form teams. Parents vs. kids is a fun way to go in a family yoga class.
You are racing against the clock to clear all the snowballs off your side.
You do this by throwing the paper snowballs to the other side.
To make it a little trickier, you can only throw snowballs with one hand.
No pushing large piles of snowballs over the line.  All snowballs must   be thrown across.
The timer will be set for 1 minute. Once the timer beeps the game is over and no more throwing.
Count the number of snowballs on your side to determine the winner.
OVER, UNDER and AROUND is a fun team challenge using an object that can fit in the palm of your hand. I use a tennis ball or, to make it more challenging and exciting, we will play the game with "water wiggles". You can purchase these at dollar stores or on Amazon. They are tubular balloon-like, gel-filled plastic sparkly objects that wiggle in your hands so are difficult to hold onto.
Form 2 teams and line up one behind the other, both teams facing the same direction.
First person in line passes the object OVER their head to pass it to the next person in line and so on.
When the object gets to the last person in line, that person runs around to the front.
Now the object goes UNDER and between the legs to be passed to the person behind.
Finally the object gets passed AROUND to the side to the next person in line.
Feet stay still facing forward!!
If the object is dropped, it has to go back to the front of the line .
The first team to finish OVER, UNDER and AROUND wins.
To take the emphasis off winner/loser, it is important for both teams to complete the game.
I first introduced PLOW RELAYS to my classes as a yoga game after reading and discussing Hey, Little Ant by Phillip and Hannah Hoose. We passed "food" along this line as ants would pass small bits of food from field to ant hill. This relay generates hysterical laughter in all ages.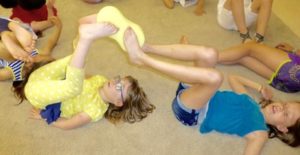 The kids all sit in Staff position, one right behind the other.
The child at the start of the line holds a (real) ball or a car washing sponge between their feet, and rolls back to Plow pose to pass the ball to the person behind them.
That person catches the ball with their feet and repeats.
You can vary this by having kids race to the back of the line after they pass the ball to keep the line going indefinitely.
The HIP WADDLE is another ball relay that produces giggles, but requires teamwork and concentration.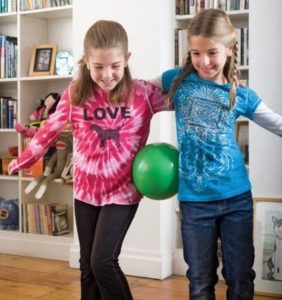 Use a beach ball, small playground ball, or balloons.
Divide the class into teams.
Stand 2 teammates side by side and place the ball between their hips.
Send them across the room, and see if they can get there without dropping the ball (it's easier if they link arms, but they'll figure that out!)
If they drop the ball they have to pick it up and start over again.
If you have enough balls or balloons, as soon as the first pair reaches the finish line, the next pair starts.
If you have 1 ball per team, as soon as the first pair reaches the finish line, they run the ball back to the next pair on their team.
TOE-GA is a "ball" activity that uses feet/toes and pompoms, and can be part of obstacle courses and many games. We often practice TOE-GA relay races, which are again, a favorite activity full of laughter. They involve teamwork, gross motor movement, coordination, small motor movement.
You will need several bags of large pompoms (on Amazon A/D Pom Pom 1.5″ Pkg 50pc Multi).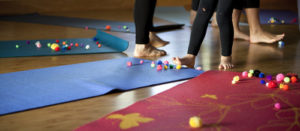 Divide class into teams.
Place shallow pans (I use baking pans) across room from team lines
Place piles of pompoms in front of each team.
Team members, one at a time, pick up pompoms in toes (can pick up more than 1) and walk (they will figure out how) to pan and release pompoms and return to end of line.
If they drop pompom, pick it up and keep going.
First team to get all pompoms in pan wins.
Both teams need to get all pompoms in pan to take emphasis off winner/loser.
Easy Pose, 3 Flying Bird Breaths, OM
NAMASTE