Phillip Hoose and his daughter Hannah have co-authored an amusing book for children ages 3-7, that teaches children life lessons and sparks much discussion in my yoga classes. The large, bright, cartoon illustrations by Debbie Tilley reveal the comical expressions on the human and ant faces.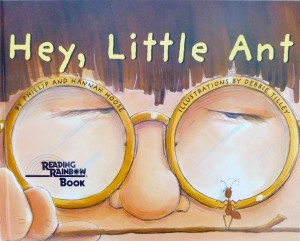 The text in Hey, Little Ant consists of the rhyming lyrics of a song, produced by the Hooses (you can purchase the CD at www.heylittleant.com). The Words and melody appear at the back of the book.
The story begins with a conversation between a boy and an ant, which he wants to "squish".  The ant pleads, "you are much like me", and he explains that he has a family and a community that depend on him.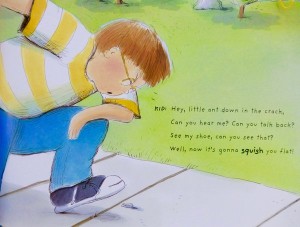 The boy replies "anyone knows that ants can't feel". He says that all his friends squish ants and they say he should squish him!
The story ends with the query "what do you think that kid should do?" This double page is illustrated with a huge sneaker positioned above the tiny ant. I pose this question to my young yogis.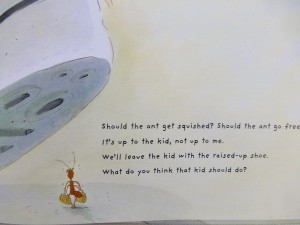 This story contains lessons on:
bullying,
peer pressure
empathy
 respect for all living things and their right to live.
One of my yoga classes for young children is based on this book Hey, Little Ant.  After reading the story and discussing the boy's, and the ant's dilemmas, the children make up a story about what an ant's life might be like. We then incorporate yoga poses, including a partner pose we call ant hill (double boat). To the song The Ants Go Marching In by Just 4 Kids from their CD Music and Stories,we mimic an ant assembly line and pass "pieces of food" along;  a ball is passed around a circle, or a car-washing sponge is passed overhead feet to feet.  This activity is asked for again and again.
During Relaxation I create a visualization for the resting children, to review the hard day's work of an ant; how different the world would be from an ant's perspective;  how all living things should be valued, no matter how big or how small.