Downward Facing Dog Pose  
Sanskrit:  "Adho" means Downward, "Mukha" means Face, "Svana" means Dog, and "Asana" means Pose
"Downward Doggy" is a call you may hear in one of my children's yoga classes as they play a game similar to Marco Polo. One child walks around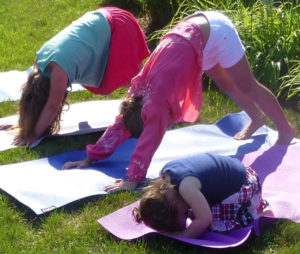 with eyes closed and arms out saying "Downward", while the other players move around in Downward Dog saying "Doggy". When the caller finds a Doggy and touches them, they are the next caller.
Downward-Facing Dog is an anchor pose in any yoga class and my favorite yoga pose to include in my children's yoga classes, ages toddler through preteen, due to it's many physical and psychological benefits. This pose is fun for kids and easy to be creative as the "dog" can become a three-legged dog, a digging dog, a donkey, part of a tunnel, a tent, or a character in a story.  "Downward Doggy" is one example of a much loved game played while posing and running as a downward-facing dog.
How to Do Downward-Facing Dog
Start on your hands and knees with a flat back (Table Pose). Arms below the shoulders and knees below the hips.
Spread your fingers and press your palms into the floor.
Curl your toes under and push your hips into the air, making an upside down V shape, sending your heels gently to the ground.
Relax your head and neck and look down between your legs.
Benefits of Downward-Facing Dog
Stretches shoulders, arms, hamstrings and calves.
Strengthens arms, shoulders, back and legs.
Increases flexibility.
Helps relieve mild depression.
Helps relieve panic attacks and anxiety (A benefit of inverted poses)
Encourages the flow of oxygen and nutrients to the brain.
Helps relieve the indigestion that many young children experience.
Invigorates little bodies.
Relaxes the mind; can tame tantrums.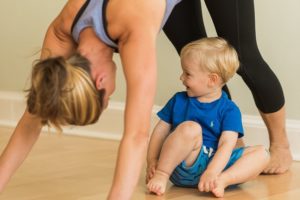 Downward Facing Dog is a fun yet challenging pose, also considered a resting pose due to its is energizing effect. This pose is beneficial for all ages, Crawlers to Seniors. I always include this developmentally important pose in my pre-Crawler and toddler yoga classes, as it stretches the upper body and strengthens the lower body. It also aids in healthy digestion. Most tots come into this pose naturally, sometimes putting their heads on the floor. If crawlers have trouble lifting their hips, caregivers can give the hips a lift from behind by putting 2 fingers in their hip crease and gently lifting. The little ones love to try and do downward dog under their caregiver's down dog.   You'll hear giggles and laughter as caregivers form a downward dog tunnel and tots crawl through, or not.
Yoginis ages 7-10 enjoy the creativity this pose inspires.
In Downward-Facing Dog pose they can become or do

:
(Don't forget to bark!)
Digging dog
Three-legged dog
Twisted dog: lift 1 hand off floor and reach back to grab opposite ankle (ie: R hand to L ankle)
Turbo dog: begin to bend knees out to the sides and push back up (like a push-up). Do 4-5 times
Walking the dog: bend 1 knee at a time like you are walking. Go fast or slow depending on the story. I use this in my lesson plan "Puppies and Dogs",  as well as for a quick warm-up.
Donkey Kicks: In downward dog, kick your feet up off the floor 1 at a time. See what it feels like to kick both feet up at the same time. Don't forget to wag your tail!
Dog Breath: like Lion Breath, but pant like a dog
Dog Tunnel: Children (or caregivers) line up in Donward Dog side by side. Child at the end crawls through the tunnel and comes into Down Dog pose on the other side. The next child goes through the tunnel until everyone has had a turn.
Double Dog: a favorite partner pose for older elementary ages. One person comes into Down Dog. The second person stands to her left and places her hands about 12 inches in front of her partners. Next she slowly raises her right foot and anchors it on her partner's right hip. She will use that as leverage to lift up her left foot and anchor it on her partner's left hip.
Anything the story or book they are listening to inspires.
There are so many ways to incorporate Downward-Facing Dog into your children's yoga class or home practice. It is part of the Sun Salutations, which we include near the beginning of each class. The younger kiddos love to salute the sun to Linda Lara's Sun Dance (Salutation), barking and wagging their tails. I created a yoga lesson plan called "Puppies and Dogs", that starts with seated puppy stretches, then stretches on all fours. We do Dog Breath, then our Sun Salutation which includes dog barking, tail wagging and 3-legged dog. I tell a story about going for a dog walk (Walking the Dog), seeing many creatures along the way, so we pose like bunnies, trees, snakes, frogs, flowers, butterflies and cats. Then we run in downward dog to chase the cats home. After we have fun doing Downward Dog Tunnel, the children relax and curl up to a beanie baby dog while I recite a warm puppy story. I also created a version of this for older elementary children. I had a blast creating the playlist. A few of the songs: Black Eyed Dog by Nick Drake, How Much is that Doggie in the Window by Patti Page, Who Let the Dogs Out by Baha Men and Black Dog in the River by Kira Wiley.
Downward-Facing Dog is my favorite posture to practice, to teach, and to be creative with. Practice it, breathe, practice it with your kids, stretch and strengthen, play, imagine.