Several years ago my grandchildren and I began painting rocks we had collected at the beach. We told stories with them, played treasure hunt in the yard, decorated my garden and pots, and lined them up in their bedrooms. I used some of these stones to tell a story in one of my first children's yoga classes, and so began my obsession with collecting and painting rocks.
I spend hours combing the beaches for "perfect" rocks to paint, or large rocks for my gardens. Painting rocks is an easy do-it-yourself activity for any age, but with supervision for children under 4.
Collecting rocks while walking as a family on the beach or along a trail is a fun, bonding activity. Almost any rock can be painted. I usually look for rocks that can fit in my hand, and have a fairly smooth surface.
Directions to prepare rocks for painting:

Wash rocks with a little dish detergent and water, scrub to remove dirt, rinse well, and allow to dry.

Seal with Mod Podge Matte formula. I like to use this sealer, as it is non-toxic, non-flammable, water-based, and easy to clean up.

Paint Mod Podge on one side of your rock with a medium to large paintbrush. It will look like a white paste, but will dry clear.

Let your rock dry for 15-30 minutes, then turn it over and seal the other side.  

Paint your rocks using any color acrylic paint or paint pen!
Uses for painted rocks can stretch as far as your imagination.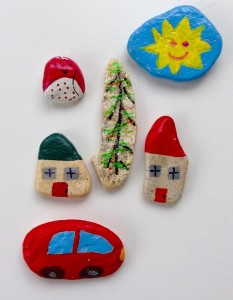 TO TELL STORIES: I have a bag of "story stones" that I bring to my preschool and kindergarten yoga classes that my granddaughter and I have painted. These include trees, houses, people, various critters, shoes, the sun and a cloud, etc. Usually I will pull a stone out of the bag one at a time and the children and I create a story together. The children also love to take all the stones and create their own stories, or retell a favorite book. Then we all do our version of yoga poses that relate to the story.
Story stones provide children great opportunities for creative and imaginative play. Playing with these colorful, fun objects also assists with their communication, language and literacy skills.
Motivational Stones: For inspiration or guidance, place one of these stones on someone's desk, at their place at the dinner table or on their pillow. I find it easier to use a fine point sharpie marker for the words, then decorate the stone with acrylic paints or paint pens. Motivational stones may display words such as Dream, Love, Imagine, Smile, Courage and

Peace

. Similarly, colorful "peace stones", with words such as Smile, Giggle, Trust,

"Pow"

, Faith, Sing, Relax, Together, and Respect, could be placed in a basket or bowl on your coffee table for all ages to enjoy.
Kindness Stones: Leave these beautiful stones as acts of kindness for others in your community, with words such as Happiness and Peace.
Affirmation Stones: I use these stones in my yoga classes for children in grades 1-5. They love choosing an affirmation stone from my bag and using it throughout the day as we progress through our yoga sequences. A few examples:

I am strong

, I am proud, I am brave, I am honest, and I am kind. I see these young yogis become their affirmation as the class evolves. I hope this confidence and pride continues to grow as they meet life's challenges.
Rock Dominoes: For young children, paint the ends of stones different colors and build the grid by matching the colors. For older children, they can duplicate a regular set of dominoes on rocks, adding a different dimension to playing the game.
Tic Tac Toe: Use a tree stump or a slate as a grid, and paint rocks to be ladybugs and bumble bees, or blue with yellow dots and orange with white dots, etc.
Create Mandalas: A wonderful mindful activity to do alone or in a group.
Alphabet Rocks: Young children enjoy learning to spell using colorful letter rocks. They love painting their own initials on rocks!
Face Stones or Feelings Stones: These painted stones, used in any setting, can help children learn about emotions as they create faces. Each stone is painted with eyes, noses and mouths in different expressions, which children will manipulate and enthusiastically "build-a-face". This can open conversations about how a child feels for each emotion created, and how they can handle their bodies/feelings when experiencing the emotion.
ROCKS:                                       USE YOUR IMAGINATION                                 PLAY                                       LEARN