"Sometimes life seems like it's all about hurrying–too many places for a piggy to go! And sometimes it's hard when things don't go your way–it can make a piggy angry and sad. How can young piggies find a peaceful way to relax and regroup? They can meditate!"
Quoted from the back cover of Kerry Lee MacLean's vividly and simply illustrated book, Peaceful Piggy Meditation, for ages 3-9.  Ms. MacLean explains meditation in a way that is understandable and enjoyable for young children.  The adorable piggies explain that to cope with life's frustrations, it is good to find a peaceful place inside; to meditate.  The colorful, simple illustrations continue as the piggies explain the benefits of meditation. Ms. MacLean includes  a beautiful, Peaceful Piggy Meditation at the end of the story.  She also includes a Mind-in-a-jar Experiment (see my blog under Crafts, Meditation Jars, for more info).
Meditation is an essential part of my life, and I wish to share the joy, confidence and peace it brings me with the children I meet, to give them tools to cope with life's difficulties.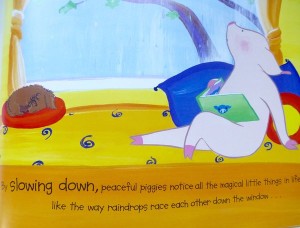 When it feels like they can't slow down, they get really frustrated and things don't go their way,  these children will "have a peaceful place inside . . . . and know when to take a break, find a spot to breathe, breathe, breathe. Feel free like a bird in the sky, and as calm as a pond on a cool, clear night."
This beautiful, honest, important book is asked for again and again by my young yogis. Kerry Lee MacLean, a Certified Children's Meditation Instructor, is also the author of Moody Cow Meditates, another vibrantly illustrated, amusing book that teaches children how to meditate.